Popular Science Investigates Alien Life Microbes in the February 2015 Magazine.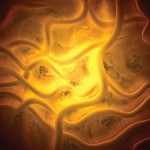 Lyme Disease Bacteria is different from other bacteria
MedicalRF.com/Getty Images
Amazing Fact: The bacterium that causes Lyme Disease is the only known organism that doesn't need iron for its basic life chemistry. Instead, Borrelia burgdorferi (Spirochete) uses manganese and other minerals.
It can also reform itself into 3 completely different shapes and substances to hide from antibiotics.
Johns Hopkins University micro­biologist Valeria Culotta says that makes our defense against the infection virtually futile: "When the immune system tries to starve it of iron, it says, 'I don't care. You can make yourself as anemic as you want but it won't affect me.'