My husband, Roi, just finished a book about our overcoming the life threatening Lyme disease.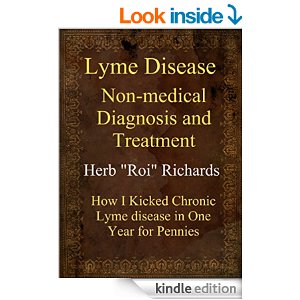 If you only know the struggles that we had to go through – not just the pain and suffering – but the costly misdiagnosis's, multiple tests and prescriptions that only masked symptoms as others showed up in their place. It was exhausting!
To think that in less than a year we are Lyme-free all thanks to a little-known natural remedy that only cost us $25 for the years treatment.
Please look at Roi's book- just posted on Amazon. http://www.amazon.com/dp/B00N980J0Q
The Kindle is only 99 cents, and you can read it on your computer with an easy free download for the Mac or PC reader.
Please help us out with a review, if you would be so kind and help us spread the word: "Those who have Lyme disease can put an end to the suffering and the high-priced medical treatment!"
It worked for us, and we are happy, happy, happy!
Thanks!
Taylore Vance